Getting to Linz
There are several ways to get to Linz, conveniently located between Vienna, Salzburg and Munich (DE).
Within the city centre of Linz, participants are advised to use the public transport services of Linz: You can download the public transport map here.
BY PLANE
The Blue Danube Airport is at the gates of the city, just 20 minutes away from the centre.
Direct flights to Linz depart from Düsseldorf, Frankfurt, London, Salzburg and Vienna.
Airport Hotline:
Phone: +43 7221 600 1101 or 1151
Website: www.linz-airport.com
Information about Bus, Train, Taxi, Car Rental:
http://www.linz-airport.com/en/approach-and-parking

There are about 5-10 arrivals per day at Blue Danube Airport.
Alternatively, you may fly to Vienna or Salzburg and take the train to Linz (travel time from Vienna airport: 2 hours via direct train / from Salzburg airport: 90 minutes with
change at Salzburg main station).


Official Airline
Austrian Airlines offer for TNC17 participants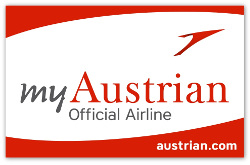 Book your flights to TNC17 online at www.austrian.com and save 15% on all applicable fares!
To do so, simply enter the following code in the eVoucher field on the Austrian homepage booking engine:
Code: TNC17

Conditions:
• Booking period: now until June 2nd, 2017
• Valid for flights to all airports in Austria and return as of January 1st, 2017 until June 9th, 2017 (final date for return flight) on OS operated flights.
Book your flights here!
BY TRAIN
ÖBB
The ÖBB offers convenient, lowcost connections from the whole of Austria and neighbouring countries.
The main station is close to the centre and directly linked to all major transport routes.
You can buy your train tickets at the airport (arrival hall) or in advance online. Please visit the ÖBB – Österreichische Bundesbahnen for the up to date train schedules and online booking information.
Hourly services from Vienna or Salzburg to Linz and every two hours from Budapest, Munich, Innsbruck or Bregenz/Zurich.
Discounted SparSchiene tickets (early booking recommended!) to Linz start at € 9.00 from Vienna, € 19.00 from Innsbruck or Munich and € 29.00 from Zurich.
ICE: Every two hours from Frankfurt, Würzburg, Nuremberg, Regensburg or Passau to Linz. Discounted SparSchiene tickets (early booking recommended!)
to Linz start at € 19.00 from Nuremberg or € 29.00 from Frankfurt. Other daily direct connections from Hamburg, Hanover, Cologne, Düsseldorf, Dortmund, Prague, Ceské Budjovice, Klagenfurt, Venice & many other cities.

Please note discounted SparSchiene tickets are only valid on the selected date and time of your travel. If you miss the train, you will need to buy a new ticket.
Website: www.oebb.at


WESTbahn
The WESTbahn rail service covers the Vienna to Salzburg route via Linz in 3 hours or so.
WESTbahn doesn't start from Vienna airport, but from the Westbahnhof station in the centre of Vienna.
Information and bookings:
Phone: +43 1 89900
www.westbahn.at
BY BUS

hellö
hellö is the long-distance bus service of ÖBB. Among other routes, hellö daily operates the north-south route from Prague to Venice via Linz (tickets from Prague to Linz € 19.00, from Venice to Linz € 29.00).
Information and bookings:
Phone: +43 810 500 120
www.helloe.com
WESTbus
The counterpart to WESTbahn on the road is WESTbus, which runs 2 to 4 times a day from Linz to Graz or from Linz to Prague from € 16.00.
Information and bookings:
www.westbus.at
Flixbus
Flixbus offers a low cost and straightforward bus service to Linz.

Information and booking:
www.flixbus.com
BY CAR
You can reach Linz via three main motorways:
Motorway (A1) from Munich - Salzburg, Vienna - Budapest
Motorway (A8) from Passau - Regensburg
Motorway (A7) from Prague
---